Wyoming UST Operator Training & Resources
Our Certified UST Training Offerings
After passing the course, you'll receive a certificate that can be downloaded and printed for your records.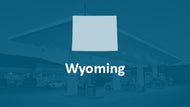 Wyoming Class C Operator Training
Regular price $10.00 Sale
Course Description
Antea Group offers Class C training for Wyoming UST operators. The curriculum meets the Wyoming Department of Environmental Quality (WDEQ) requirements and is available in a convenient online format.
All courses will expire and must be completed within 90 days of purchase. Please also note to use Google Chrome or Firefox as your browser. Internet Explorer and Edge can have issues with some aspects of your course.
Class C
Antea Group's Wyoming Class C UST training course is available on-demand, and can be taken anytime and anywhere for your convenience. The course is self-paced, allowing you to stop and start as many times as needed. The training takes approximately 15 minutes to complete. As with most states, Class C training is facility-specific, so certification is only valid after signature approval by the Class A or Class B operator following a review of the UST system for your facility.
UST Training Requirements for Wyoming
Class A and Class B operators in the state of Wyoming need to be licensed and registered with the WDEQ. To become licensed and registered, you must take and pass a test for Wyoming State Specific Storage Tank Laws administered through the International Code Council (ICC).
For Class C operators, you're required to be trained through an approved third-party provider such as Antea Group. Retraining for all operators may be required if their facility is found to be noncompliant.
Quick Links to Class A/B Training Programs
As previously mentioned, Class A or Class B operators must take the ICC training to become licensed and registered. For more information, visit ICC's website below:
Reciprocity & Additional Resources
In place of the ICC exam, Wyoming may accept certifications and licensing from other states, but only after evaluating the other state's training requirements and if that state is adjacent to Wyoming or a city in Wyoming. To seek reciprocity, operators should contact the WDEQ:
WDEQ Headquarters
200 West 17th Street
Cheyenne, WY 82002
(Phone) 307-777-7937
(Fax) 307-635-1784
For more information on Wyoming's UST training requirements, visit: http://deq.wyoming.gov/shwd/compliance/.